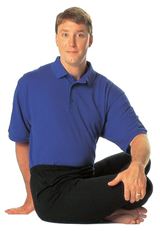 How 
have major league athletes prolonged careers and achieved injury-free seasons? 
What 
formula did two aerobics champions incorporate to capture five national titles? 
How 
are people from all walks of life removing their physical limitations and improving their performance in everything from golf and tennis, to dance and martial arts? 
The answer 
is Charlie Trezevant's flexibility program. 
"Function precedes form. Without proper
function you can't have proper form." 
- Charlie Trezevant